KNOW TRUTH, LOVE GOD, SERVE OTHERS

"Helping adults and children
understand and obey God's word."
Even a casual reader of the Bible soon discovers that he is reading a most unusual book. Although covering thousands of years of human history and recorded by more than forty human writers, it is one Book with amazing continuity.
The Bible is unique because it is both Divine and human. God revealed Himself to man by breathing out His words, the things He wanted us to know about Himself. This message is also human because it was communicated to human authors who wrote it down, so we can know and understand it. Because the Bible is the inspired Word of God it is authoritative when it speaks and sufficient to reveal God and His will to us.
At Kitwe Church we want every person young or old to know and understand this wonderful message from God so that we can please Him with our obedience! Join us this Sunday and discover the Kitwe Church difference!
We exist to glorify God by teaching adults and children to understand and obey the Word of God. Our mission is to glorify God by making disciples who joyfully live for Christ and eagerly carry out His mission among the nations.
"I will not offer to the Lord my God sacrifices
that have cost me nothing."
— 2 Samuel 24:24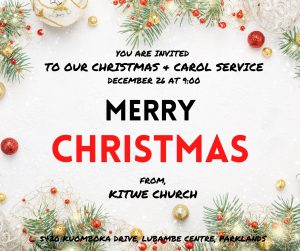 Join us this Sunday for our annual Christmas & Carol Service at Kitwe Church. We are located at Lubambe Centre, Kuomboka Drive in Parklands. See you Sunday at 9:00. Come…
Read More

The Word for this Christmas Eve Day comes from Isaiah 9:6. This is one of my favorite Christmas passages and is answers an all important question. WHAT: Along with this…
Read More