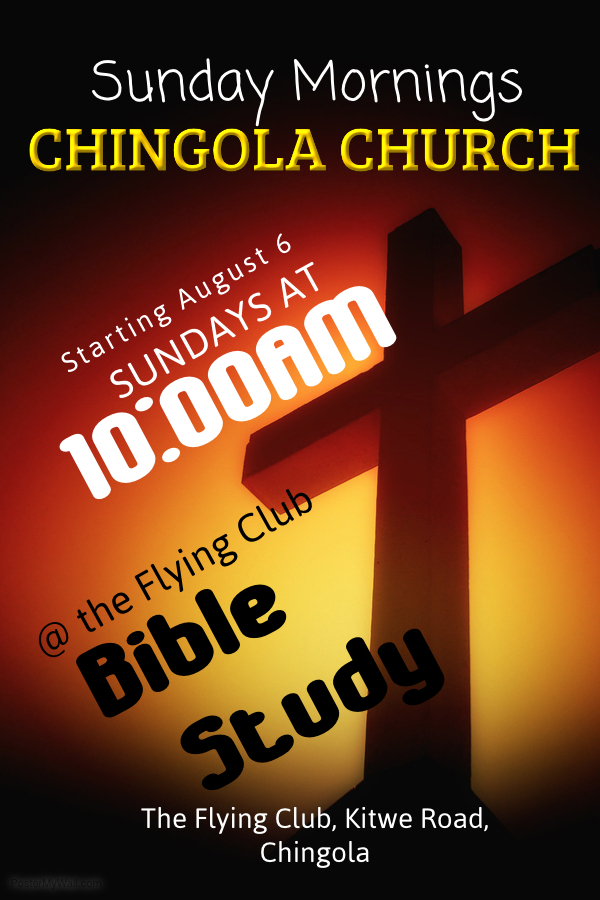 Kitwe Church began three and a half years ago as a Bible study outreach.  The burden was to reach into the lives of people living in our community who were not being reached by other gospel preaching churches.  The first year we took an "apologetics" approach to our study of the Bible, offering answers to questions about christianity, the gospel, and saving faith.
For the past year and a half, believers at Kitwe Church have been praying that God would allow us to reach out in a similar way to another needy area.  With families and visitors coming to Kitwe Church from Chingola, it became our prayer that God would one day allow us to plant a ministry in that city.
Well, God has answered prayer and the time has come!
On Sunday, August 6th Kitwe Church will hold the first Adult and Children's Sunday Bible Study Fellowship. It is our prayer that over time God will call out a people for His name among those who are yet unreached in Chingola and another Gospel proclaiming church will come into existence… and there is already a name for that future church:  Chingola Church.
We know of several gospel-preaching churches in various areas of Chingola that are reaching out to their community.  We thank God for the opportunity to come alongside them in reaching the unreached across the city.
Please pray for this outreach! Pray for those who will lead the Bible study and teach the children.  If you are unchurched and living in the Chingola area, make plans to join us at 10:00 August 6th for the very first Sunday!
For more information call: +26 0976 153466 or email kitwechurch@gmail.com
Philip Hunt, Pastor
Kitwe Church