One Philosophy – To Live Is Christ, To Die Is Gain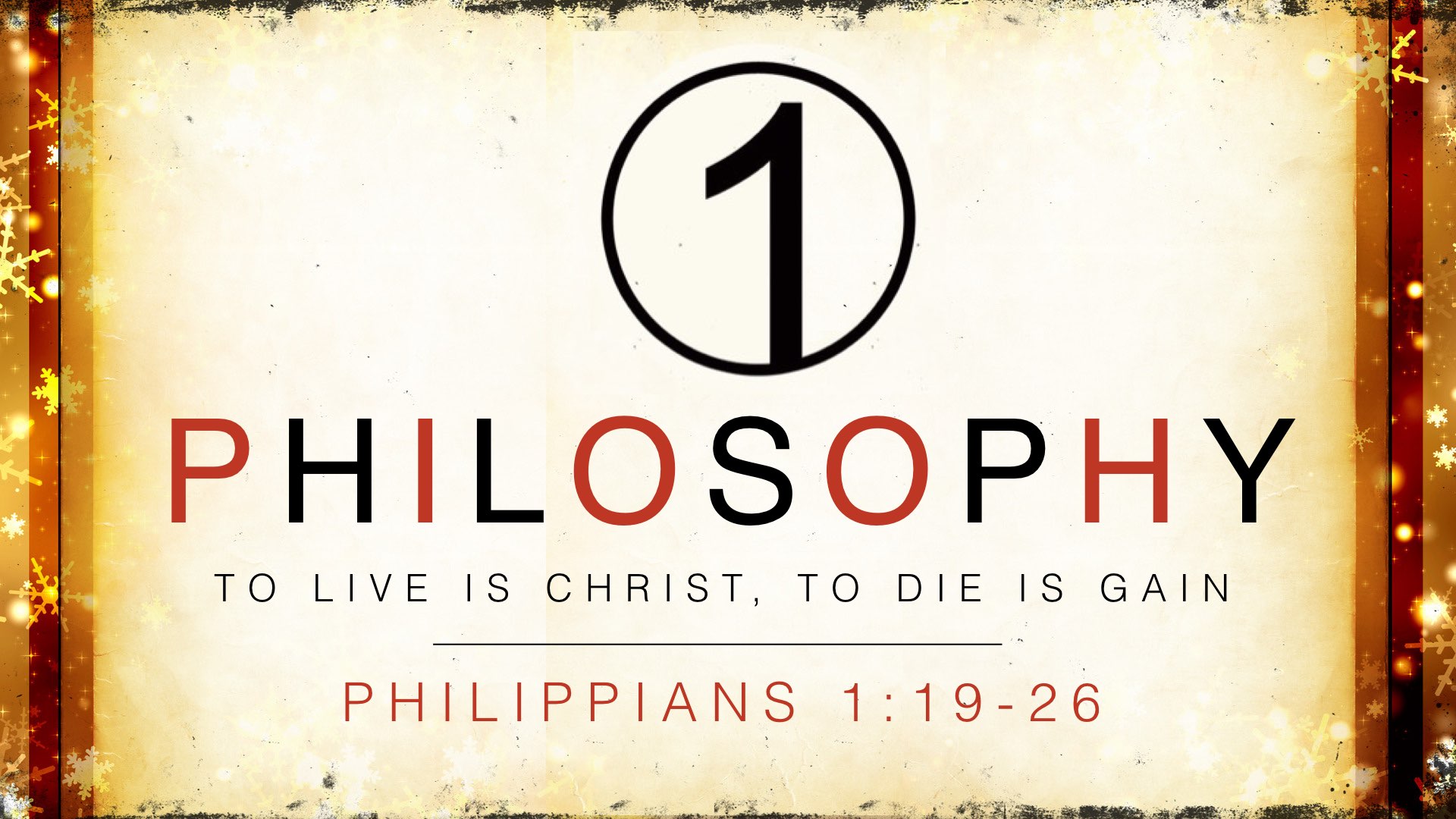 What is your philosophy of life? To what in life would you respond with the words, "Man! This is Living!"?
Everyone lives by a set of values – things you believe are important. These beliefs form your philosophy of life. Your philosophy of life determines how you view the world.  They shape how you view your purpose for living.
Philosophy = core beliefs (values) that guide your decisions and actions.  The world offers many philosophies of life:
1. Life is pleasure – Epicurian View – Person who takes pleasure in fine food and drink. Followers of Epicurius (341-270BC) a Greek Philosopher who promoted the theory of a material universe composed of indestructible atoms moving in a void, unregulated by Divine Providence.
This philosophy of life centers on living rather than life. Life to these people means one round of pleasures after another. They pursue entertainment and pleasure at huge cost and in it seek satisfaction. MTV/Hollywood, recreation, amusement park and holiday. Like a lady I heard of who who wanted to go on a cruise but did not have the money, so she sold her body to science.  After she dies the company gets her remains.  She takes the money she got for the sale of her body and went on a cruise!
This is the successful farmer in Luke 12:19 who after a successful harvest said, "And I will say to my soul, Soul, thou hast much goods laid up for many years; take thine ease, eat, drink, and be merry."  What he didn't know was, that very night would be his last!
2. Life is pain – Stoic View – Life is something that has to be endured. Living means hard endurance in the midst of harshness, suffering and pain. In the midst of it all the stoic is determined to hold on till the end. These people find it hard to smile, no joy in life, they are bitter and cold. They have never learned that the joy of the Lord is strength.
There was an elderly lady I knew as a teenager, her name was Mrs. Morgan.  The thing you learned never to do at church was to say to Mrs. Morgan "how are you today?" because she would hold onto your hand and tell you! Before she launched into her list of aches, and difficulties she would say, "I'm doing pretty good under the circumstances."
3. Life is hopeless – Cynics View – What is the use of anything? Nothing I do will make a difference anyway. What will be will be, so why try. They believe anyone is motivated by self-interests.
4. Life is people – Humanist View – Man is intrinsically good but in a bad environment. Humanist believes in the potential good in everyone and seeks human means to solve the problems of mankind. Ignorance, prejudice, social injustice, government policies are the evils that must be corrected through education, social programs, and pressure groups.  Christians ought to quickly realize that this is the exact opposite of that God says to be true.  We are depraved.
5. Life is religion – Religious View – Life is the performing religious duties, traditions. Mindlessly going through the motions.
6. Life is family – Average-Man's View – Life is our family, our home, work, and the activities of life. These things are important but they often become the most important things in life and when they are taken away our life collapses.
The book of Philippians reveals the true Christian mind. In every chapter and every division in the book this word is found.(1.7,2.2,2.3,2.5,3.15,3.19,4.2,4.10.) Paul is literally saying through the Book of Philippians: "Here is how a Christian should think about these various matters."
So how did Paul think about life and ministry? What were the guiding principles for Paul's behavior? Paul made many statements throughout his life that offer insights into his thinking:
Necessity is laid upon me, yea, woe to me if I do not preach the gospel. (1Cor. 9:16)
I made it my aim not to preach where Christ was named (Ro. 15.20)
I have become all things to all men that I might by all means save some. (I Cor. 9.22)
Who are we but bond-servants through whom you believed (I Cor 3.5)
Neither count I my life dear to myself. (Acts 20.24)
Today we are looking at Philippians 1:19-26. In our text we discover the foundational theme of Paul's philosophy of life and ministry : "For to me, to live is Christ and to die is gain." (21)
I fear that if we are not intentional the philosophy statement of many Christians is the reverse of Paul's; it goes something like this: "For to me, to live is gain, to die is Christ."  We live for all that we can get out of this life, but we still have Christ as our heavenly insurance policy in the end.
I. THE VALUES THAT SHAPE HIS PHILOSOPHY (20-21a)
Paul what do you mean, "For to me to live is Christ"?
1. My highest affection, my deepest passion, my overriding ambition is Jesus Christ and Him alone. In Him alone I find fulfillment, happiness and joy unspeakable. My worth both personally and in ministry is found in Him alone – in His approval, His smile, His nod. (21a)
What are your priorities in life?
How do you spend your leisure time?
What do you read?
What do you think about?
Where do you spend your money?
2. My motive is for His will (20) – nothing more, nothing less, nothing else. Christ is my life and nothing else. His will is my chief concern (Ro. 12.1-2). My great concern is that His eternal purposes might be fulfilled in me and through me in the world. His goals are my goals, His desires are my desires. (20c)
3. My single aim in life is to glorify Christ. Christ lives in me and lives his life through me, thus God is glorified in my body which belongs to Him. (Gal 2.20, I Cor 6.19)
4. My singleness of purpose boils down to this central philosophy of life – To me to live is Christ!
• To know as much about Christ as is possible to know.
• To imitate Christ, to make Him the model of my life.
• To make the gospel of Christ known as far as possible and to as many people as possible in my lifetime.
To enjoy Him – to be comforted in trouble, to find my happiness in communion with Him!
5. For me to live is Christ simply means that Christ is the love of my life
Love is always thinking about the object of its love (Mt. 6.21). With Paul his love was Christ,
Love expresses the emotion and gives release to the desires within us. Paul's desire was to know Christ better. (3.10)
Love translates into action – A reckless abandon to the object of his love. Paul has spent his time preaching Christ and he was not concerned what might happen to him because Christ was in control. (20b) Whether by life or by death.
2 Cor. 11:22 Are they Hebrews? so am I. Are they Israelites? so am I. Are they the seed of Abraham? so am I. 23 Are they ministers of Christ? (I speak as a fool) I am more; in labours more abundant, in stripes above measure, in prisons more frequent, in deaths oft. 24 Of the Jews five times received I forty stripes save one. 25 Thrice was I beaten with rods, once was I stoned, thrice I suffered shipwreck, a night and a day I have been in the deep; 26 In journeyings often, in perils of waters, in perils of robbers, in perils by mine own countrymen, in perils by the heathen, in perils in the city, in perils in the wilderness, in perils in the sea, in perils among false brethren; 27 In weariness and painfulness, in watchings often, in hunger and thirst, in fastings often, in cold and nakedness. 28 Beside those things that are without, that which cometh upon me daily, the care of all the churches.
Acts 20:24 But none of these things move me, neither count I my life dear unto myself, so that I might finish my course with joy, and the ministry, which I have received of the Lord Jesus, to testify the gospel of the grace of God.
Paul, what do you mean, "To Die Is Gain"?
1. Death is gain (21b). To attain something greater, more profitable!
Heb. 11:9-10 By faith he sojourned in the land of promise, as in a strange country, dwelling in tabernacles with Isaac and Jacob, the heirs with him of the same promise: For he looked for a city which hath foundations, whose builder and maker is God.
2. Death is desirable (23)
To depart and be with Christ is far better than living on here.
I will however remain and fulfill my ministry because that is what is best for you (24-25)
My ultimate joy will be to see him face to face. To be in His physical presence never to depart.
II. THE MEANING OF THIS PHILOSOPHY IN MY LIFE
What will it mean to my life to live by this philosophy "to me to live is Christ"?
1. It means I will make all decisions in my life based upon God's priorities. It means I will demonstrate my priorities consistently in such a way that it impacts my children. If you wish to see the priorities of Christian parents watch their offspring over time
For some, education is the highest priority – all else is willingly sacrificed at her altar. We teach our children it is fine to miss church, neglect godly responsibilities, ignore the call of God to service for the sake of education.
For some, the attainment of a good job, the securing of a career is all-important. "Of course I would be happy for your to serve God in ministry, but first you need to have a career to fall back on in case it does not work out."
For some, it is the pursuing of worldly comfort and pleasure. We need the latest fashion, the newest upgrade, the surrounding of our lives with every comfort and ease we can find.
Little of the conversation in our Christian homes centers around the character of God, a Christian world-view. Is it any wonder that we are producing a self-centered, self-serving generation of young people who have no interest in serving God with their lives?
2. It means I will gladly sacrifice my all and even my life if required in order to glorify God's great name!
"People who do not know the Lord ask why in the world we waste our lives as missionaries. They forget that they too are expending their lives … and when the bubble has burst, they will have nothing of eternal significance to show for the years they have wasted." — Nate Saint, missionary martyr, 1956
What will it mean to my life to live by this philosophy "to die is gain"?
1. It means I must develop an eternal perspective. This life is not the end but merely the path to the greater. To die is gain! (21)
2Cor. 4:18 While we look not at the things which are seen, but at the things which are not seen: for the things which are seen are temporal; but the things which are not seen are eternal.
2. It means I unwaveringly press toward the mark (20) – earnest expectation = intense desire, anticipation! We have a goal and continually evaluate to determine if what we are doing moves us toward that mark. We must focus on "this one thing." Shed off the many good things that hinder us from achieving that 'one thing'. I count all things as dung – in comparison to Christ all the things that can be achieved or acquired are refuse. (Phil 3.7-8)
3. It means I "become all things to all men." – Willing to step outside our comfort zone for the sake of His name among the lost of the world. (I Co. 9.22)
4. It means I am willing to take risks for God. "Neither count I my life dear." (Acts 20.24)
5. It means I desire that Christ be magnified above all else at all costs. This means that I am willing for Christ to be magnified at my own expense – by life which is Christ's or by death only that Christ is glorified. The choice rests with Him. (20). I am willing for God to build His kingdom at my expense?
"The blood of the martyrs is the seed of the church" – Tertullian of Carthage
According to "Christians in Crisis" there have been 43 million Christians martyred in the last 2000 years – 50% of those in the last century.
III. THE MANIFESTATION OF THIS PHILOSOPHY IN MY LIFE
Great courage – Boldness, confidence before God and man.
On 12/28/1852 David Livingstone wrote: "Am I on my way to die in Sibituane's country? Have I seen the last of my wife and children? The breaking up of all my connections with earth, leaving this fair and beautiful world and yet knowing so little of it? O Jesus, fill me with Thy love now, and I beseech Thee accept me and use me a little for Thy glory. I have done nothing for Thee yet, and I would like to do something. O do, do I beseech Thee, accept me and my service and take Thou all the glory…"

On 4/4/1853: "If God has accepted my service then my life is charmed till my work is done. And though I pass through many dangers unscathed while working the work given me to do… Death is a glorious event to one going to Jesus… There is something sublime in passing into the second stage of our immortal lives if washed from our sins."
Magnification of Christ (20c)
1. Chief purpose of man is to glorify God and worship Him forever
Jer. 9: 23 Thus says the LORD: "Let not the wise man glory in his wisdom, Let not the mighty man glory in his might, Nor let the rich man glory in his riches; 24 But let him who glories glory in this, That he understands and knows Me, That I am the LORD, exercising loving-kindness, judgment, and righteousness in the earth. For in these I delight," says the LORD.
2. Suffering and even death become the verification that we believe what we proclaim.
Mal. 1:11 For from the rising of the sun even unto the going down of the same my name shall be great among the Gentiles; and in every place incense shall be offered unto my name, and a pure offering: for my name shall be great among the heathen, saith the LORD of hosts.
On December 6, 1943, John Stam wrote: "Dear Brethren, My wife, baby and myself are today in the hands of the Communists, in the city of Tsingteh. Their demand is twenty thousand dollars for our release. All our possessions and stores are in their hands, but we praise God for peace in our hearts and a meal tonight. God grant you wisdom in what you do, and us fortitude, courage and peace of heart. He is able – and a wonderful friend in such a time… The Lord bless and guide you, and as for us, May God be glorified whether by life or by death."
The next day John and Betty Stam were marched to another city stripped of their clothes and paraded through the streets before being shot. Their three-month old baby, Helen, was found in an abandoned in a house thirty hours after the execution. A Chinese evangelist delivered her in a rice basket to a missionary family hundreds of miles away.
Desire to be with Him – To die is gain! (23)
To depart is something desirable, something far better  To die is gain because we depart to receive the full inheritance and eternal reward of heaven. Yet we are willing to stay and faithfully serve God's people while longing to depart and be with Christ.
When death comes we can say: (II Tim. 4.6-8)
I have fought a good fight
I have finished my race
I have kept the faith.
What is your philosophy of life?
For to me to live is gain and to die is Christ?
Or can you say like the Apostle Paul:
"For to me to live is Christ, to die is gain!"
Note: I am indebted to Martyn Lloyd-Jones for his insights into this text.