ONE PLEA – Glorify God With Your Life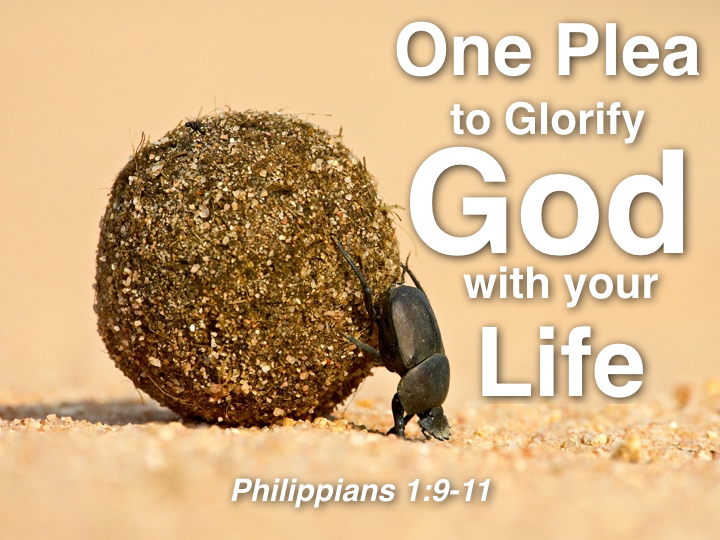 We have all been guilty of offering habitual prayers, or even casual prayers. You know, the kind of thoughtless prayers like "Lord bless all the missionaries today."
I will never forget the night Carman was born. It was 9:30 in the evening on April 8, 2002 when Lori said that she thought it was time. Having been through this routine with four other babies I was not in a big hurry.  When Lori was expecting Cherith I remember at the first sign of labor I bolted into motion, grabbed our gear and wisked Lori into the car and raced to the hospital at breakneck speed only to  wait another 12 hours before the baby was born.  Lori came back a few minutes later and said it was urgent that we go now!  We got to the clinic here in Kitwe and at 11:30pm Lori gave birth to a beautiful baby girl who we named Carman.
Carman was a cord birth.  I watched the midwife work frantically and finally get the cord off the baby's neck.  She was a deep purple color, but slowly gained a more normal shade.  After things had settled down I went back to an empty room to sleep.  After a time, I felt a hand on my shoulder, it was Lori.  She said, you must come quick, the baby is in distress.  I ran back to the room and Carman was taking short little gasps of air.  Each time she exhaled bubbles came out of her nose. She was now an ashen grey color, drowning from the amnionic fluid she ingested during birth.  I grabbed Lori's hand and began to pray. I remember that prayer, it came from deep in my heart, a cry for God to be merciful and intervene and spare her life.
This is the kind of prayer that we find in our text Philippians 1:9-11.  Paul is laying out his passionate prayer to God for the Philippians. He has spoken of his deep affection for them, "I have you in my heart" he says in v 7.  "I greatly long for you all with affection" he says in v 8. Now he shares with them his prayer.
Passionate prayer is praying from the overflow of a burdened heart with a sense of our own inability. It is the pursuit of God by one man on behalf of another.
"And this I pray!" (9) Here is the content of Paul's prayer: He longs for them to glorify God with their life, to be the means by which praise and glory is rendered to God!
In these three short verses Paul lays out the essentials for a life that glorifies God! This is essentially a plea to glorify God with your life!
Glorifying God With My Life Begins With A Love That Is Constantly Growing (9a)
How does this happen?
We grow in knowledge of God through His Word.
As we know him our love increases but this overflowing love is more than just a head full of facts about God and His Word, it is the basis for obedience. (John 14:15,21,23)
Love and obedience are not the same thing. You can obey with the wrong attitude. You can obey without love, but you cannot love without obeying. Obedience is the natural expression of love.
The reason that so many Christians are indifferent and careless toward God is that they are in love with the wrong thing. We are prone to love the gifts God gives instead of loving Him!  We love the creation instead of the Creator! (Rom 1:21,25).  We love money, education, our occupation, sports, or entertainment but we do not passionately pursue Christ as greatest end.
The question for you today is not, do you know about Jesus, the question is do you know Him The question is not, "Do you love Jesus?" but, "Do you love Jesus more than anything else in this world?" (Lk. 14:26).
This growing love is the product of a growing knowledge of God and His Son Jesus Christ! It is not only a knowledge of facts but an experiential knowledge gained by walking with Him day by day.
What does this growth look like? How does a growing knowledge of God flesh out in everyday life?
We grow in discernment
Discernment is the ability to distinguish between right and wrong.  This is not a legalistic list of regulations and checklists used to evaluate spirituality, nor is it is it license to do whatever you want. This discernment is based upon a deep heart desire to please the object of our love. It is genuine holiness based upon a deepening knowledge of God through His Word. It is a life in balance, able to discern what is appropriate, what is helpful.
We are called to embrace the knowledge of God that produces holy living! The ability to make proper judgements for everyday living in line with the nature and character of God. The practical application of our knowledge of God to the realities of every-day life!
1Thessalonians 5:21 Test all things; hold fast what is good.
1Thessalonians 5:22 Abstain from every form of evil.
Hebrews 5:14 But solid food belongs to those who are of full age, that is, those who by reason of use have their senses exercised to discern both good and evil.
Glorifying God With My Life Means That I Choose What Is Best Over What Is Merely Acceptable! (10a)
Approve what is excellent
This is not to determine good and evil but to determine what is of real value so that you don't waste your life!  Determine what is best! Live for what matters most! There are many things that can fill your time each day. There are opportunities that come in life that are not necessarily sinful. Paul is saying that the life that glorifies God evaluates each opportunity to determine what has real value!
Don't waste your life on rubbish.
Choose the real thing!  A couple years back I was on safari in Chobe National Park in Botswana.  We spent the morning on the Chobe River viewing abundant wildlife.  After a wonderful lunch at the lodge we climbed into the open safari vehicles in search of big cats.  As we moved through the bush the drive suddenly slammed the brakes and pointed.  I missed it at first, but then I saw what the guide was pointing at.  Crossing the trail in front of us was a Dung Beetle. It's front feet were down in the sand and the back legs were up on a ball of elephant dung.  It was pushing that ball back to wherever it lives.  A dung beetle spends his whole life pushing a ball of animal feces. Dung beetles will attack one another to steal the ball of dung!  As we continued our drive I sat back and prayed, "God, don't let that be the parable of my life!"  What a tragedy to get to heaven one day and see our Christian life from heaven's perspective only to realize that we did little more than push around balls of dung!
And Paul was concerned about this very thing! Notice what he writes in Philippians 3:3-8!!
For we are the circumcision, who worship God in the Spirit, rejoice in Christ Jesus, and have no confidence in the flesh, 4 though I also might have confidence in the flesh. If anyone else thinks he may have confidence in the flesh, I more so: 5 circumcised the eighth day, of the stock of Israel, of the tribe of Benjamin, a Hebrew of the Hebrews; concerning the law, a Pharisee; 6 concerning zeal, persecuting the church; concerning the righteousness which is in the law, blameless. 7 But what things were gain to me, these I have counted loss for Christ. 8 Yet indeed I also count all things loss for the excellence of the knowledge of Christ Jesus my Lord, for whom I have suffered the loss of all things, and count them as dung, that I may gain Christ
Paul had reached the pinnacle of success in Hebrew culture. He had a stellar pedigree, a Hebrew of the Hebrews.  He was religious and full of zeal.  In the eyes of his contemporaries Paul was to be admired!  But all of this he viewed as dung, compared to the excellencies of having Christ!
What really matters in life is serving God and living a life that brings Him glory. To live a life that is worthy of the gospel. (1:27)
As I come to know Christ, I see Him hanging on the cross in agony, I view His glorious character in the Word, I experience his grace in my life and my perspective changes. I no longer see ugly, unloveable people, I see people who Christ loves. I no longer see thieves and prostitutes and drunkards and rapists I see men and women who God loves and sacrificed His own Son on the cross to save!  When I know Christ my perspective changes. I no longer view people in light of how they affect me, or their impact on my life.  I view them through the eyes of the One who loved them and gave Himself for them! When Jesus saw the multitudes, he was moved with compassion because they were wandering like sheep without a shepherd. (Mt. 9:36)
So what is best? Christ Himself! In Him alone the Christian finds satisfaction, fulfillment, love, and joy unspeakable and full of glory! Pursue Christ not for what He can give but for who He is!
Don't waste your life on rubbish!
Glorifying God With My Life Means That My Life Is Characterized By Integrity. (10b)
Be sincere
Sincerely is to be without hypocrisy. Christ's most scathing rebukes were reserved for the self-righteous, (Matthew 23:13-15, 23,25,27-28) those who appeared one way but inside they were something totally different.
When life turns up the heat, when your goals and plans begin to crumble, when trials or afflictions come, when people begin to falsely accuse you, you are suddenly presented an opportunity to demonstrate your sincerity. What you really believe about God, his love, his faithfulness and his goodness is actually lived out in the midst of the fiery trial.
Be blameless
To be blameless is to be a person of Christlike character. This is the extent and goal of integrity. (2:14-15). We were chosen by God to be blameless Eph. 1:4 just as He chose us in Him before the foundation of the world, that we should be holy and without blame before Him in love.
Blamelessness is not only requirement for every pastor and deacon – it is the standard for every child of God. (I Tim 3:2,10)
Glorifying God With My Life Means That My Life Produces Good Works. (11a)
Christ produces in my life "fruits of righteousness."
This is the external fruit of our internal love for God! This is seen in my response to suffering, in my graciousness when attacked, in my courage when threatened, my ability to suffer and even die if need be for the sake of Jesus Christ. The world is not at all impressed with our business success, with the size of our bank accounts, with our beautiful houses. What impacts the world is our response to suffering, pain, death, bankruptcy, or how we handle the death of our child. A dear friend who recently lost her daughter said to Lori at the funeral, "It hurts so much, but I know God is good!"  This is the genuine fruit that is produced by an overflowing love for God!
Don't waste your life!
Several years ago someone gave me John Piper's book entitled "Don't waste your life!" Let me to borrow those words to press home the urgency of living for the glory of God!
Don't waste your money
Don't waste your influence
Don't waste your education – use it to establish a beachhead for the gospel in some restricted access country in the 10/40 window.
Don't waste your robberies
Don't waste your dis-functional family upbringing
Don't waste your death.  The first Administrator of Faith Children's Village, Joe Mbewe, lost his wife in tragic circumstances.  I will never forget his testimony at the funeral of his wife. With his two year old daughter in his arms, he gave testimony of his faith and the confidence that he would see her again.  Joe then sang his wife's favorite song, "When peace like a river attendeth my way, when sorrows like sea billows roll; whatever my lot, thou hast taught me to say, "It is well, it is well with my soul."  This is what it means to not waste your death!
Jesus spoke of Peter's death and then these words, "signifying by what death he should glorify God!" (Jn 21:19)
As God orchestrates the dark valleys and deep trials in your life, Don't waste them!  Don't waste these opportunities to magnify Christ (1:20)!  Allow His life to so saturate you that your very presence permeates Christ to the world around you. Whether in life or in death – glorify Christ!
Here is the culmination of Paul's prayer! (11b) Paul's passionate plea to God on their behalf all crescendos to this as its highest end: "to the glory and praise of God!"
Paul prayed that the Philippians' love would increase through a growing knowledge of God that would result in the discernment to spend their lives for what really matters by living as men and women of integrity so that the righteousness of Christ might bear abundant fruit in them to the glory and praise of God.
Are you wasting your life or spending your life for what will count for eternity? Is your life bringing glory and praise to God?
What a tragedy it would be to get to heaven and suddenly realize that all you did was push around balls of dung your entire Christian existence!