Serving the Lord of the Harvest
John 4:1-43
I loved growing up on a farm, especially during harvest time.  I would come home from school and help my uncles by operating the combine or large tractors with grain carts.  I loved it!  I hated to see it come to an end.  I remember the first year I did this job I was very sad when we finished what I thought was the last field for the season.  That's when my uncle thought me an important truth. "There is always another field."  The same thing is true of Christianity.  As we saw last week, and will see even more clearly this week, Jesus has given us a great privilege of being his messengers, his ambassadors in this world.  He came to seek and save the lost.  Now he is leaving the harvest of souls in our care.  When we look around this world, we must remember that there is always another harvest field either geographically or generationally.
Today I want to share a message with you entitled, "Serving the Lord of the Harvest."  We find our text today in John chapter 4. As we read this passage we will see Jesus and three groups of people.
o The Samaritan Woman:  Acquainted with a form of the truth, but not a believer.  She is overwhelmed with Guilt and Desperate for forgiveness and healing
o The Disciples: Experienced Ministers of the Gospels
o The Other Samaritans that the first Samaritan woman brings to Christ.
You know, each of us would fit into one of these categories today as well.  We will come back to that idea at the end of the message.
I. The Samaritan Woman – The Lesson: Jesus's Offer of Salvation is based on Grace to all who put faith in Him.
A. The Background of the Samaritans v. 1- 4
At the beginning of John 4 we are told that Jesus was traveling from Judea to Galilee.  In verse 4 we are told that Jesus had to pass through Samaria on his way.  This is important.  Many Jews refused to take this route from Judea to Galilee.  Instead, they took a route that was twice as long, crossing the Jordan River before reaching Samaria then traveling up the western side of the Jordan and then re-crossing the Jordan into Galilee.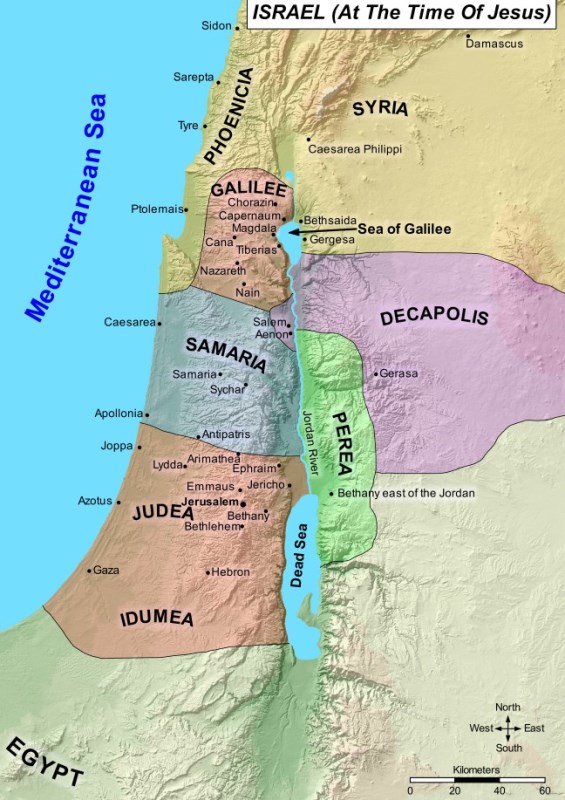 The Jews and Samaritans were actually related, but did not get along.  The hostility between them can be traced back to a point in Israel's history when they were being punished by God for being unfaithful to Him.  You see, back in 722 BC the Assyrian Emperor conquered Israel and took many of the people into captivity.  He then repopulated the area with Assyrians who over time intermarried with the remaining Israelites.  This was against the Old Testament Law.  This intermarriage also played a big role in comprising the Jewish faith as these Samaritans created their own new religion based partially on Jewish teachings and partially on pagan teachings.  So, in this conflict both were at fault.  The Jews were self-righteous.  The Samaritans ha compromised the truth and created their own religion based on Old Testament principles with sinful applications.With all this in mind, it is very significant that in John 4 Jesus chooses to travel through Samaria and his disciples are then forced to be exposed to these people they have grown up despising.
B. The Reason for Passing through Samaria v.5- 10
When Jesus and the disciples stop for food and water at 12:00 noon Jesus shows why he had to pass through Samaria.  He wasn't just passing through.  He was there for ministry!  He was seeking to save the lost. Jesus shared the Gospel with a woman who was a social outcast.  She was an immoral woman who had been with 5 different husbands and was now living with a man she was not married to.
Most women would have come to the well in the morning when the work of drawing water and transporting that would be less difficult in the cool air.  By the sixth hour (12:00) there were often many travelers coming through who would be hot and thirsty and the women wanted to be out of that area by then.  But this woman comes after all the women are gone.  She would rather be there with strangers passing through her land than with her own neighbors and countrymen.  Why? Her adulterous lifestyle has made her a social outcast. Yet, Jesus does not treat her that way.  He speaks to her, which is a big deal.  He is breaking every tradition of his culture.
o She's a Samaritan.
o She's a woman.
o She's living a sinful lifestyle that no honorable devout Jew would ever want to be associated with.
C. The Message Jesus is Delivering to Samaria v.10- 26
Jesus offers living water (v. 10).  This woman misunderstood, but she wanted water so she would never have to return to this well. She thought he was speaking of water from a natural spring, but he was speaking about eternal life – spiritual water. He was offering it to her in spite of her wicked lifestyle. Jesus knows all our wicked sin and pursues us for salvation anyway (v.17-18).  Salvation is by grace alone, through faith alone, in Christ alone.  There was nothing that made this woman worthy of Christ's attention.  She didn't deserve to hear this message, but because of grace (unmerited favor) she is the one Jesus chose to share the message with first in Samaria.
Jesus told her that she as a Samaritan was worshipping what she didn't really know. Today, many people worship, what they don't know.  (21). They have religion, but no relationship.  Empty religion won't save anyone and won't transform a life.  Just like this woman, people today need to know that Jesus is the Messiah – the Christ.  He is the one with the authority and ability to teach all things and forgive sin (v. 25-26)
II.  The Disciples – The Lesson:  Ministry is a Way of Life, not a job or a position of prestige and power.
Remember, these are the experienced ministers of the Gospel.  This event we are reading takes place about 1 year into Jesus public ministry and the disciples have been with him during this time. As the disciples returned from buying food in town they were surprised to find Jesus speaking with a Samaritan woman, but they did not interrupt him.  After the woman left, Jesus took this opportunity to teach his disciples some spiritual truths as well.
Jesus was teaching them that missions was a way of life that changed how you viewed everything in the world.  It was not something to be done only on the Sabbath or in the synagogue and temple.  No, it was for everywhere at every moment.  Even here and now near the town of Sychar in Samaria. Now Jesus was about to help them recognize just how satisfying serving God could be.
Before we move on, let's get the full picture of all that is happening here.
o The disciples are traveling on foot more than 90km, which was an exhausting task.
o Jesus takes them through Samaria, which makes them very uncomfortable.
o He was just talking with a Samaritan (which was not culturally acceptable) who was a woman (which was considered culturally inappropriate).
o Jesus just told them he doesn't need to eat food because he is satisfied by the ministry experience he just had of sharing the gospel with this outcast.
o Now in verse 30 we are told that she is coming back with a crowd of people behind her to meet Jesus.  The disciples are really uncomfortable now.  They might be thinking these Samaritans are angry over Jesus talking with this woman and are coming out to attack them, but Jesus is calm.  He even looks happy.  It is with this background that Jesus speaks simple words of profound truth.  A truth that all genuine believers in Christ today need to be reminded of.  Perhaps you can identify with the disciples.  You have been a faithful servant with genuine faith, but you may have lost sight of what ministry is all about.  Maybe you need to be reminded of the simple truth Jesus shares here.
Let's read vs. 34-38 again and look at these principles closely.
4 Principles for us to apply as we serve the Lord of the Harvest
A. Observation vs. 35
The first thing Jesus says is, "Do not say four more months and them comes the harvest.  Look I tell you, lift up your eyes, and see that the fields are white unto harvest."
He and his disciples are looking out toward the wheat and maize fields and he wants to use this as an object lesson.  The way you know when the wheat is ready for harvest is when the heads on the stalks turned white.  As the Samaritans from Sychar come walking out of the town toward Jesus and the disciples they look up and see that the white clothing of the Samaritans stood out against the brilliant green of the ripening grain in the field. So Jesus made the comparison.  Look!  Just lift up your eyes.  The spiritual fields are white unto harvest!!!
This is not what the disciples expected as they began their journey that morning.  No doubt the disciples had said, as they approached the city of Sychar, "There can be no harvest here! These people despise us Jews and would have no use for our message."  But just the opposite was true: the harvest was ready and only needed faithful workers to claim it.
Jesus told his disciples, stop what you are doing.  Look!  The spiritual harvest is ready, right here, right now.  Jesus saw the Samaritan town as a field ready for harvest, one where the planting and harvesting of the fruit of the good news would happen at the same time.  The disciples needed to learn the Biblical principle of observation.  Don't trust your prejudices or pre-conceived ideas.  Always look around to see what God is doing.  The disciples had no choice, but to look on this day.  Surely this amazing picture of the Samaritans walking toward them ready for spiritual harvest overwhelmed the disciples.
That leads us to the second principle that is found in the same verse.  Not only do we need to be observant.  We must have a sense of urgency about our task of proclaiming the good news and inviting people to join the family of God.
B. Urgency vs. 35
By using the illustration of the harvest field, Jesus impressed on the disciples the urgency of reaching the lost.  There was no need to wait four months, four weeks, four days, or even four minutes.  The harvest was ready now!
We all know what happens to a crop that is ready, but not harvested.
• In town it gets stolen.
• In the bush, like the village of Nambaaza, it gets eaten by animals grazing in the field (especially elephants).
• If neither of those things happen it is left to rot in the field.  No farmer is willing to let these things happen.  No, when the maize is ready there is an urgency to harvest it to make sure that none is lost.
The same thing should be true of the spiritual farming that we do as disciples of Jesus.
There should be a sense of urgency.  Why?
o People are dying.  Don't let the harvest be stolen by death. Not a day goes by when there are not numerous funerals happening. We must share the Gospel and lead people to salvation while we still have time.
o False Religions continue to sweep people away.  Don't let the harvest be eaten up by these grazing religions in the fields of Africa.  Every human has been created with the need to be re-united with their creator.  There is something in all of us that causes us to seek spiritual fulfillment.  John 14:6 makes it clear that Jesus is the way, the truth, and the life.  No man comes to the Father but by him.  We need to share that message.  If we don't then the charismatic churches will convince them that the Christian life is all about worldly health, wealth, and prosperity.  If we don't share the gospel then the legalistic sects of Christianity will convince people that righteousness comes by works.  If we don't share the gospel then the false sects of Christianity will blind people to the truth. If we don't share the gospel then people will convert to Islam as the Muslims keep spreading out through Africa.
o If people aren't reached with the Gospel while their hearts are prepared then they get calloused to the truth.  They harden their hearts like Pharaoh.  Don't let the harvest rot away because of our inactivity.
That takes us to the third principle.  There is reward for those who get involved with the task of harvesting souls through evangelism.
C. Reward vs. 36
Just like it takes months of work before an agricultural harvest, so it takes weeks, months, and sometimes years of hard work before you see a harvest of souls.
By telling the disciples that the one who reaps is receiving wages and is gathering fruit for life eternal the Lord highlighted their responsibility to participate in the harvest of souls.  They would receive their wages, the rewarding joy of gathering fruit for eternity.  Jesus already referred to this in verse 34 when he said, "My food is to do the will of him who sent me and to accomplish his work.  There is a great sense of fulfillment and satisfaction that comes from serving God in this area of evangelism.  It is its own reward.
Think of it this way.  When you eat food that you produced yourself it is more fulfilling and more enjoyable than food you just bought somewhere.  You take pride in eating what your labored to produce.  We love eating the fruit from our own trees, the vegetables from our own garden. I love to hunt and to raise cattle because I enjoy eating what I worked to produce and to harvest.
That is how it is spiritually as well.  Just as the farmer is the first to enjoy his own crop, so the Christian who shares the Gospel is the first to be rewarded in the harvest.  There is nothing in all of the Christian life that brings as much joy and excitement as leading a lost soul to the point of repentance and salvation through faith in Christ.  The best, most satisfying, most fulfilling experiences I have had as a Christian have not been preaching or teaching (even though I love these things).  Without doubt the most exciting privilege I have had is to lead someone else to the point of receiving Christ.
Lastly, there is one more principle that we need to see.  It is the principle of partnership.
D. Partnership vs. 37-38
On small farms, the farmer who sows the seed usually reaps the harvest. However, on the big farms this is not usually the case.  Think of some of the farms around Kitwe where the farmer owns the land and the supplies, but employs hundreds of workers to help him with the work. The farmer might assign some men to do the planting while others are cutting wood or working with the cattle.  However, when it comes to the harvest time those same men who planted might be taking their turn at cutting wood of caring for the animals while the others are doing the harvesting.
That is how it is in the spiritual realm.  God is the farmer who owns the fields and supplies needed for farming.  We, as Christians, should be like the workers on his farm doing whatever he tells us to do.  In the spiritual realm the one privileged to do the harvesting is often not the same one who did the planting.  This is the same principle that Paul spoke of in 1 Corinthians 3:6, "I planted, Apollos watered, but God was causing the growth."  Kitwe Church, this is why we are on this earth.  We are to plant, water, and harvest new believers in Christ.  So here is the question: is missions a way of life for you?
Are you practicing these four principles in your life:  Observation, Urgency, Reward, and Partnership.
Sadly, the disciples of Jesus were not, but they were about to learn a big lesson from a person new to the Christian faith.
III.  The Harvest of Samaritans being harvested by a new believer v. 39-43
Let's picture this event as it unfolds.  Jesus had just shared the Gospel with the Samaritan woman.  She recognized Jesus is the Messiah and goes to tell the people in the town.  She is doing the work of an evangelist by bringing the people to Jesus.  Meanwhile, the disciples had to be taught by their master how to do the job they had.  They were expected to be evangelists, but weren't doing the work.  He says to them, "Be observant.  Look!  The seed has been newly sown and here is the harvest already!  The mission field of Samaritans is ready for harvest.  The disciples look in the same direction and see the Samaritans coming toward them with the green fields behind them and they recognize that Jesus is talking about a spiritual harvest of repentant believers.
Jesus says to them, Already the one who reaps is receiving wages and gathering fruit for eternal life so that the sower and the reaper may rejoice together.  Jesus himself is the sower.  The Samaritan woman from the well has begun reaping the harvest and now his disciples have the opportunity to share in his joy by helping to reap the harvest, which had sprung from his conversation with the Samaritan woman and her witness to the other Samaritans.
Do you see the beauty of this scene unfolding? As he explains these things to the disciples the people keep getting closer and Jesus then invites the disciples to join with him in this work of reaping the harvest.  He says, "One sows and another reaps.  I sent you to reap that for which you did not labor.  Others have labored already and you have entered into their labor."  Now the disciples are starting to understand.
They had probably come to Samaria with a complaining spirit, not wanting to be among the despised Samaritans.  Now as the crowd of Samaritans arrives in front of them they see things from God's perspective rather than a Jewish perspective.  They see these people as a mission field ready for harvest and they are ready to join the labor force.  They are putting into practice all four principles.  They have observed.  They recognize the urgency of the task.  They want the reward of being satisfied by doing the will of God by evangelizing these lost souls, and now they choose to enter into this partnership with others who sowed the seed before them.
Now, let's think about something.  Jesus said that the disciples were entering into the labor to reap where others had sown.  They had to remember that others before them had prepared the hearers to receive the message.  Who were these others who had been sowing the gospel among the Samaritans?
Well, remember, these people were half Jewish and had developed their own version of the scriptures and their own temple.  These things were all based on the Old Testament prophets.  Here is a list of some people who had sown the seed of the gospel for the Samaritans:  Moses, OT Prophets, John the Baptist, and Now Jesus.
Now let's compare this idea to sharing the Gospel here in Zambia.  Christianity has been in Zambia ever since David Livingstone brought it here in November 1855.  That is 160 years ago. Ever since then there have been missionaries and Zambian believers working together to share the message of the Gospel.  Today, we live in Zambia, which has long been referred to as a Christian nation, but as we all know there are many, many people who are not yet Christians.  There is much work left to do and today Jesus still says to us, his disciples, "I sent you to reap that for which you did not labor.  Others have labored, and you have entered into their labor."
This is true of me and it is true of you.  I am entering into the labor of Jesus and the 12 apostles when they sowed the seed of the gospel nearly 2000 years ago.  I am entering into the labor of past missionaries to Zambia such as David Livingstone 159 years ago and others who came before me more recently such as Phil & Nathan.  I am entering into this harvest field recognizing that others have come before me and we are all rejoicing together, both the sowers and the reapers.
But, how about you? Are you entering into this labor?
Are you looking up and recognizing that you live right in the middle of field that is ready for harvest?
Do you sense the urgency?
Do you recognize that you can have the rewarding experience of building God's Kingdom by sharing the Gospel and leading your fellow Zambians to Christ just as this Samaritan woman led her fellow Samaritans to Christ?
Do you recognize that others have done the hard work of plowing the ground, planting the seed, and watering it for years so that now in 2014 you would have the privilege of being a worker in the harvest?  Do you see the privileged position that you are in today as a Zambian believer living in the midst of a field of souls that is ready for harvest?
The disciples recognized this and joined in the harvest that day and let's see what happened as we read vs. 39-43.
1. Many Samaritans believed in Jesus.  Salvation came to Sychar.  Why?  Because the woman's testimony!  She didn't have a degree in Theology, but she had a personal saving faith that caught the attention of others and caused them to also put faith in Christ.
2. Jesus stayed two more days to teach. (Yes, the disciples had to stay in Samaria 2 more days, but by this point I don't think they minded it).
3. Many more believed because of Jesus' teaching
4. Lives were transformed.  The woman is no longer a social outcast.  When people of Sychar looked back on that day there was no doubt that everything changed the day that Jesus came to town.
That's what happens when people enter into the partnership of the gospel.  That is what happens when followers of Jesus enter into the labor of reaping a harvest where others had sown the seed of the Gospel.
• There is always another field.  (Geographically and Generationally)
• It is the privilege of Jesus' disciples in all generations to reap the harvest that continues to spring from this good seed of the Gospel. 
Conclusion:
So today, which of these three groups do you identify with?
o The Samaritan Woman:  Acquainted with a form of the truth, but not a believer.  She is overwhelmed with Guilt and Desperate for forgiveness and healing.  Do you need to be saved from your sin today?
o The Other Samaritans that the Samaritan woman brings to Christ:  Did you come here today because you were invited by one of the church members who wants you to experience the same love, forgiveness, and healing that they have experienced?  Will you believe in Jesus because today you have heard his words?
o The Disciples: Experienced Ministers of the Gospels.  Do you need to change your view of what being a Christian is all about?  Will you make it a way of life instead of a Sunday tradition?  Will you look at it as an opportunity to serve rather than a position of power and prestige?
Each of us who are a Christian came to faith in Christ because others joined in the mission of God and shared the gospel with us.  Now I pray that at Kitwe church we are consumed by the glory of God and that out of hearts of worship we will throw ourselves whole heartedly into the task of missions so that we who were once the recipients of the gospel will be the messengers to others of this same good news.