Standing Firm: Resolving Conflict As Kingdom Citizens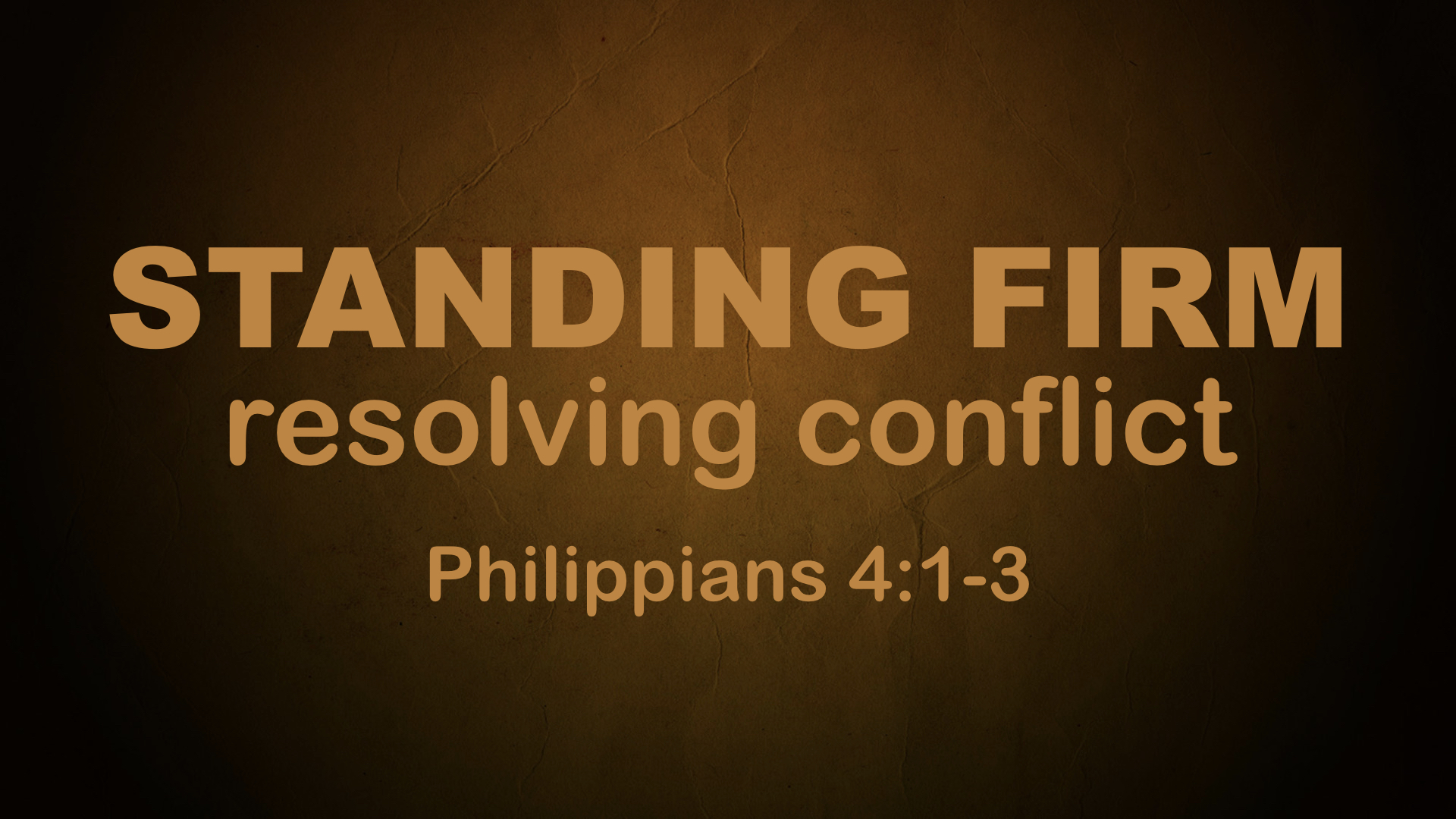 On January 30th, 1945, Company B, 15th Regiment, 3rd Infantry was attacked by a superior German force outside the city of Holdwihr, France.  Six tanks and 250 German infantry advanced on about 100 American soldiers.  The American force took heavy casualties, and First Lt. Audie Murphy ordered his troops to retreat to the nearby forest and take cover.  Murphy stood between his retreating troops and the German advance and emptied his machine gun.  Looking over he saw a 50 calibre machine gun on a burning tank, quickly he ran and jumped behind the 50 calibre and for the next hour laid down a withering barrage of fire that eventually pushed back the German advance.  For this heroic act, Audie Murphy was awarded the Congressional Medal of Honor, America's highest award for bravery.
Audie Murphy is remembered today, because in the face of overwhelming odds! In the midst of conflict he stood firm!
As we come to our text in Philippians 4:1-3, the church at Philippi is also under attack!  The church has three enemies: The world, the flesh and the devil himself.  We see throughout Paul's letter the attack that this church is facing:
1:28-30 – Persecution agains the church.
2:2 – Disunity in the congregation
3:18 – False teachers had slipped into the church.
4:2-3 – And now there is a dispute between sisters in Christ that threatens the unity of the church!
Paul calls on the Philippians to Stand Firm in the middle of this spiritual warfare that raged around them and for them (I Cor 16:13, Eph. 6:11,13,14)!
Spiritual instability is a threat to every Christian because it leads to disappointment, doubt, discouragement and ineffective witness! This is a very real danger in Philippi and this is a very real danger here at Kitwe Church!
"Therefore" – Because we are citizens of heaven, pursuing Christlikeness we must Stand Firm!
Stand Firm!
Because you are a citizen of heaven (3:20)
Because He is coming back for His citizens (3:21)
Because His citizens should think like Christ – share the values of the Kingdom! (2:2,5)
So what does it look like to Stand Firm spiritually? Where do we find the power to Stand Firm in troubled times?
That is exactly what Paul is addressing in 4:1-9: "So stand fast in the Lord, Beloved."   He exhorts believers to Stand Firm in the Lord:
By living in harmony with your brothers and sisters in the Lord (2-3)
By finding your joy in the Lord regardless of the present circumstances (4)
By controlling your power to serve others – gentleness (5)
By remembering that the Lord is always present (5b-6)
By casting your burdens on the Lord with a thankful heart (6b)
By guarding your mind with the peace of God (7)
By saturating your mind with truth (2,8)
We will look at each of these seven instructions in the next couple of weeks, but today we want to focus in on the first one!  If we are to Stand Firm we must live in harmony with our brothers and sisters in the Lord!
THE PROBLEM of CONFLICT
Conflict happens among good people!
The identity of the people involved – Euodia & Syntche.
These ladies were church members, not outsiders. They were both serious Christians, they were sisters in Christ.
These ladies were not in conflict over a doctrinal matter or Paul would have corrected it and rebuked the one in error.
These ladies were prominent and well respected in the congregation.
Paul loved them both dearly – see his terms of endearment!
They both have faithfully served God
They both have been partners with Paul in gospel ministry.
Conflict is rooted in unbelief!
Conflict is rooted in a system of wrong beliefs. We assume that what we want is what we need and that it is up to us to defeat those who oppose us! This thinking is based on fear – but Apostle John tells us that "perfect love casts out fear!" (1Jn.4:18)
Conflict is fueled by pride. I read of a collision between two passenger ships in the Black Sea. In the summer of 1986, two ships collided in the Black Sea off the coast of Russia. Hundreds of passengers died as they were hurled into the icy waters below. News of the disaster was further darkened when an investigation revealed the cause of the accident. It wasn't a technology problem like radar malfunction—or even thick fog. The cause was human stubbornness. Each captain was aware of the other ship's presence nearby. Both could have steered clear, but according to news reports, neither captain wanted to give way to the other. Each was too proud to yield first. By the time they came to their senses, it was too late.
Conflict has damaging implications!
When faced with conflict there are two basic types of responses: Attack or Avoid!  When bullets fly and bombs explode there is a lot of damage that must be cleaned up when the conflict is over. After the Iraq war the US spent over $60b in reconstruction, and still the people do not have adequate services.
When you are embroiled in conflict with a brother or sister in Christ:
It says that some difference of opinion or some wrong done to you is more important to you than the advance of the gospel (1:12).
It destroys your testimony of being controlled by the love of God (Jn. 13:35).
3. It beings disrepute on the church of Jesus Christ before a watching world (1 Cor. 6:6).
4. It is a tool Satan can use to divide the church as people take sides in the dispute. Don't let Satan get access to the amazing thing that God is doing among us! (2 Cor. 2:10-11)
Some of you have ancient arguments and hurts with others in this town or in this church. Old hurts, unresolved sins or wrongs and now you are a growing Christian, and God says, "STOP IT!" Humble yourself and make things right because the gospel is at stake! This is what citizens of the kingdom do, they reconcile.
How much worse is the damage of the conflict when it is Sister Euodia this side and Sister Syntyche on this other side! You must remember:
God is completing His good work in you! (1:6)
Your love is to be overflowing more and more! (1:9)
You are to conduct yourselves in a manner consistent with the gospel that saved you! Forgiveness & Forgiving!
Follow the example of Christ in your humble self-sacrifice obedience – you walk in unity with other Christians not for their sake, but for Christ's sake! (2:8)
Your enemy is not your sister (or your brother) Your enemy is false teaching! Keep your eye on the ball!
THE SOLUTION to CONFLICT
The Plea
Agree with one another – reconcile with each other.
Forgiveness focuses on the offense, reconciliation focuses on the relationship! 100% restoration to harmony!

Forgiveness takes place in an instant, reconciliation takes time and effort to restore the broken relationship.
The basis for agreement – in the Lord! Our biggest need is to get right with the LORD – then we will be right with one another!
Get along with one another – don't be proud! (Ro. 12:16-18). Work at getting along with everyone. Live in harmony (1 Cor. 1:10)! There must be no divisions in the church: no favorite preachers, no favorite people (cliques), no divisions along the line of ethnic similarities.
Getting along with one another brings joy! It is so pleasant when brothers dwell together in unity! (Ps.138:1).
The Help
Get involved – help these two ladies reconcile. The gospel is at stake! Help them accomplish 1:27 "as citizens of heaven conduct yourself in a manner worthy of the gospel" by fighting together for a greater mission/purpose/cause.  We are fighting together for the faith of the gospel! We are fighting together, not fighting one another!
These two Christian ladies needed the help of the church to resolve the matter because:
They were not agreeing and resolving the matter by themselves.
Because the seriousness of their disagreements was threatening the stability of the congregation.
Because their disagreement could easily bring reproach on the gospel and the testimony of the church!
This help is a mark of spirituality. "You who are spiritual restore such a one in a spirit of gentleness…" (Gal.6:1) What is required if you are to help others reconcile?
Humility – willing to take a wrong for the greater cause!
Taking a risk – confronting in love, involvement for the purpose of reconciliation
Love – the same deep affection for others in the body of Christ! No one hates his own flesh! Assume the best! Be willing to forebear, It doesn't have to be "my way." (I Cor. 13:1-8)
The Motive
Their names are written in the Book of Life! You are eternally saved! You share the same life with the sister or brother who you are now in conflict with! God's life! You will both share heaven one day because you are both citizens of His kingdom!
The Book of Life is important! Is your name written in it? (Rev. 20:12-15; Rev. 21:27)
So what now?
Get involved – you who are spiritual get involved and help these folks to reconcile.
Love fiercely – Paul loved these ladies and love this church family! Fervent love for others and Christ's church will motivate you to get involved.
Live in harmony in the Lord – Embrace the mind of Christ, and humbly obey Him in this matter! Get your focus off the offense and the offender and back onto the LORD!

Acknowledge the hurt
Forgive the offender
Reconcile the relationship – and do it for Christ's sake!
The conflict between Euodia & Syntche reveals that even the most mature, faithful, and committed people can become so selfish and be embroiled in controversy if they are not diligent to maintain unity!  Living in unity in the fellowship of believers creates an environment of stability!
Stand Firm!