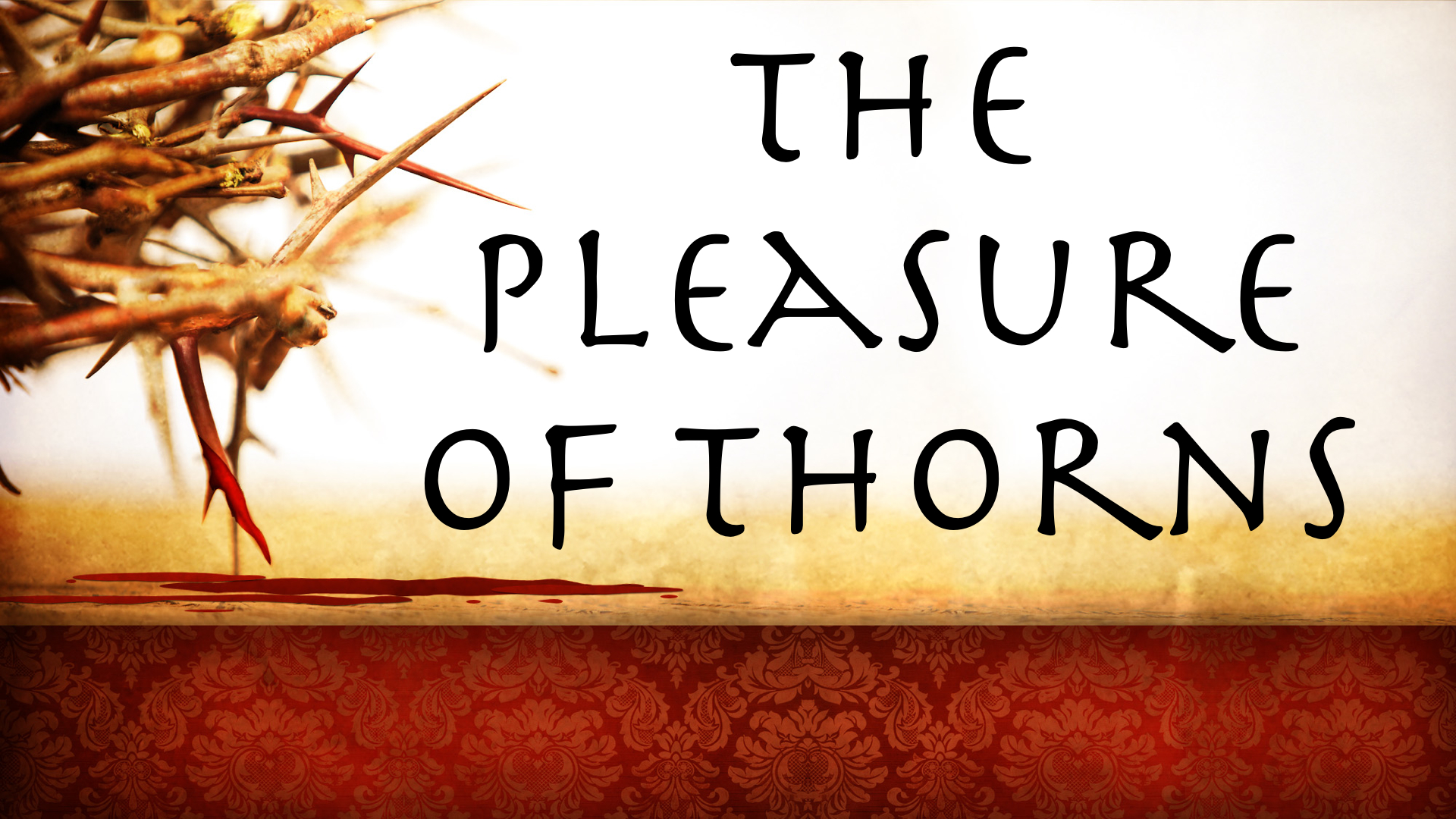 In my devotions this morning I came across notes I had written in the margin some time ago that challenged and encouraged me.  I wanted to give them to you in writing for your personal meditation.
In 2 Corinthians 12.7-10 Paul writes this concerning what he refers to as a thorn in the flesh:
And lest I should be exalted above measure by the abundance of the revelations, a thorn in the flesh was given to me, a messenger of Satan to buffet me, lest I be exalted above measure. Concerning this thing I pleaded with the Lord three times that it might depart from me. And He said to me, " My grace is sufficient for you, for My strength is made perfect in weakness." Therefore most gladly I will rather boast in my infirmities, that the power of Christ may rest upon me. Therefore I take pleasure in infirmities, in reproaches, in needs, in persecutions, in distresses, for Christ's sake. For when I am weak, then I am strong.
Paul had a problem, He referred to it as a thorn in the flesh (7)
Paul had a problem and it was painful!
Was it a physical problem? Probably!  But it was more than that. Paul's problem was most certainly spiritual as well.  It was something used by Satan to beat him up.  Does this not speak of Satan bringing spiritual discouragement to Paul?
Paul came to God with a petition – Remove the thorn (8)
Paul pleads with God earnestly in prayer on multiple occasions to remove this thorn.  He wanted to get away from it.  He longed to not have to deal with it any longer, so he came to God.  It was too much, the pain ran too deep!  Paul longed for relief and felt that the relief he needed was to have the painful situation removed by God.
Paul would experience spiritual power – Because of the thorn (9)
God reminded Paul that His grace was abundantly sufficient for him in the midst of the pain!  Imagine a little mouse at the base of Victoria Falls wringing his little paws as he frets that there might not be enough water for him and his little friends.  You can hear the roar of Victoria Falls saying, "Drink your fill little mouse, my water is sufficient for you!"
God also revealed to Paul that it was because of the thorn that God allowed to remain in his flesh that the power of God could fully rest upon Him.  It was  through the thorn that the power of God would rest upon His ministry.
Only when Paul understood God's purpose could he take pleasure – In the thorn (10)
With God's perspective Paul's praying changed!  Paul's outlook changed!  He could take pleasure in the thorn that had caused him such pain!
Paul came to understand that it was through this weakness that he would experience God's strength.
Paul's circumstances did not change from verse7 to verse 10.  What changed was Paul's understanding of God's purposes and thus Paul's relationship to those circumstances also changed.
Your thorn is of God's own choosing and is different for each one of us.  Those who would be greatly used of God and remain humble must bear some type of thorn.
God keeps us weak so that His strength and power might be fully poured out in us and through us.  As you understand God's greater purpose you can embrace your thorn with joy that the power of God may rest upon you!
Christian, remember that God's grace is sufficient for you in whatever painful circumstance you are facing today!  Lean hard into Christ and draw from Him that all-sufficient grace!