One Fellowship – The Fellowship of the Gospel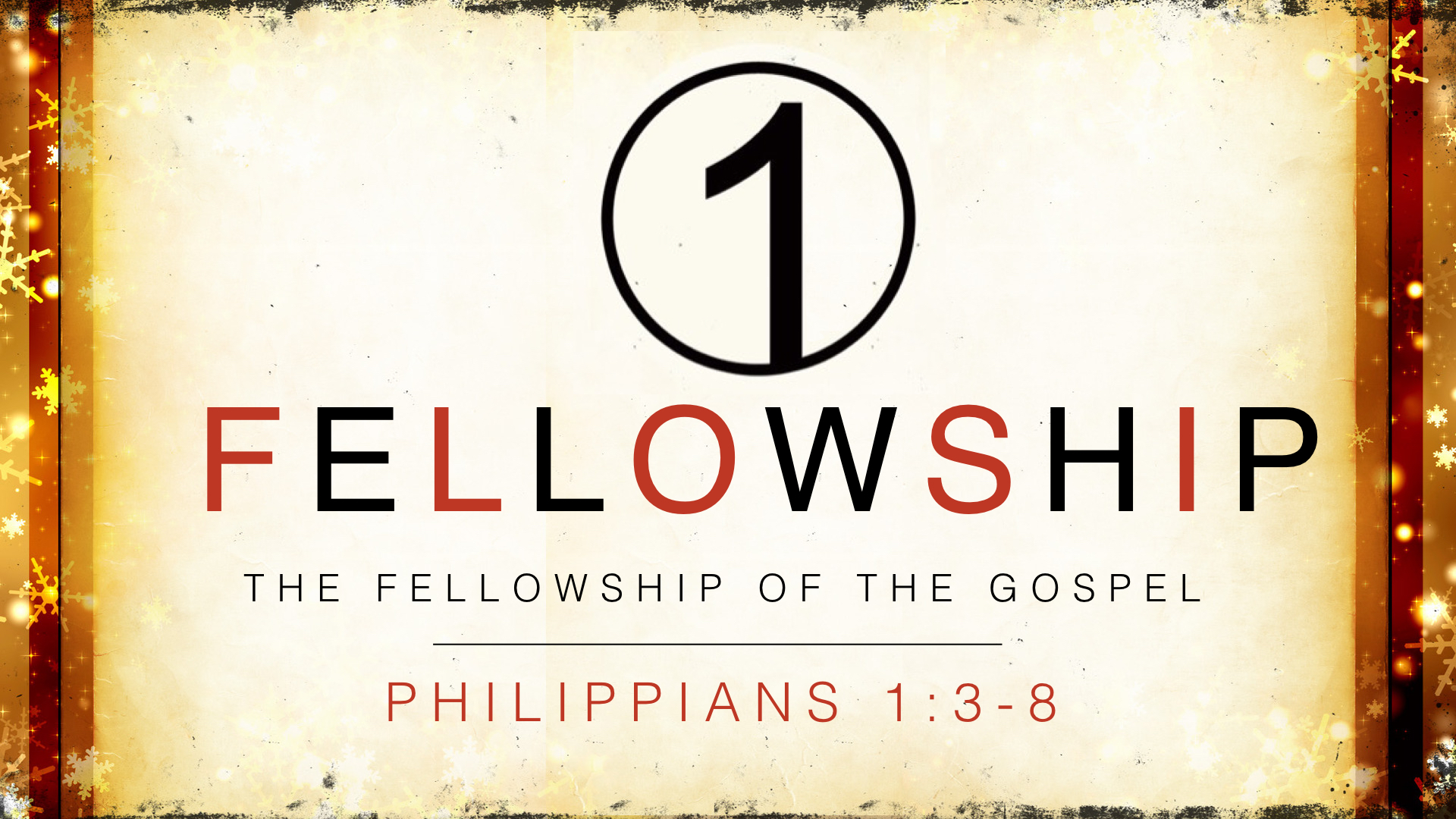 Our text is taken today from Philippians 1:3-8.
We all live for something, each of us have a purpose in our life. Whether or not you could articulate what you are living for right now or not, doesn't change the fact that it exists. When people share a common goal, there is a very high level of sacrifice, and a minimizing of self-centeredness… and in that moment, there is a camaraderie and joy that is inescapable!
My boys have a favorite movie: The Lord of the Rings.  This movie is based on the book by JRR Tolkien. In The Fellowship of the Ring, nine of the most unlikely characters come together bound by a single great mission to defeat the forces of darkness and save middle earth. Four hobbits led by Frodo Baggins, two warriors from Gondor, Gandalf the wizard, Legolas came from the race of elves and a dwarf named Gimili. In the end they gave themselves for one another and became honored friends.
Such earthly fellowship can happen when the conditions are right, but our text speaks of a depth of fellowship that exceeds any earthly fellowship.
We have been called dedicated our lives to Jesus Christ, abandoned to His glorious purposes among men! The proclamation of the gospel! We are engaged in what Bunyan called a "holy war" we march to the tune of a different drummer, we answer to the call of a different master. We are a band of brothers, consecrated to the grandest and noblest of causes – the carrying out of God's eternal purposes in our world. We are ministers of the new covenant, proclaimers of freedom to those in bondage, soldiers of the cross! We will be opposed, we will suffer hardship, we will be required to give our all and for some of us very lives!
But brothers and sisters, it is worth it! In the midst of spiritual conflict there is a glorious fellowship to be enjoyed! In suffering and deprivation and hard work and opposition, there is a deep, blessed fellowship that cannot be understood by the world.
The world seeks to manufacture this wonder, but it cannot be reproduced in the disco house or the football stadium. The world longs to experience just a taste of this wonderful gift of fellowship, but they seek it in all the wrong places. We find that this fellowship can only be found as passionate disciples of Christ abandon themselves in partnerships of sacrifice and service to the gospel.
WHAT IS THE THE GOSPEL?
(http://www.lifein6words.com/connect-with-god/)
GOD CREATED US FOR FELLOWSHIP WITH HIM
OUR SINS SEPARATE US FROM GOD
SIN CANNOT BE REMOVED BY GOOD DEEDS
PAYING THE PRICE FOR SIN JESUS DIED AND ROSE AGAIN
EVERYONE WHO TRUSTS IN JESUS ALONE HAS ETERNAL LIFE
LIFE WITH JESUS STARTS NOW AND LASTS FOREVER
It is in the context of this "partnership of the gospel" that we experience joy, love and overwhelming thankfulness!  Notice how Paul describes this fellowship! Notice how this gospel ministry will affect our lives and our relationships with those we minister?
Verses 1-2: The Context
Preachers – Paul & Timothy- Paul is in prison in Rome awaiting trial.
Position – bondservants
People – saints / Bishops & Deacons
Place – Philippi. City in Europe, Roman colony. City of about 10,000. Paul had established the first church on the continent of Europe in @50AD. Now 10 years late he is writing this letter
Pronouncement – Grace & Peace, from God.
THIS IS A FELLOWSHIP THAT RESULTS IN A HEART OVERFLOWING WITH THANKSGIVING (3-4)
His Thankfulness For Them (3)
His thankfulness is stirred by his memory of them. In this personal letter Paul begins by telling them that every time he thinks of them from his prison cell he is filled with joyful thanksgiving to God that naturally translates into prayer for them. (3-4)
Paul remembers the first time he arrived in this city (Acts 16:7-10).
He recalls meeting outside the city walls by the river with a handful of gentile women who met there to worship God. He rejoiced in the conversion of Lydia and her household. (16:11-15)
He remembered the grief he felt when the demon-possessed girl prophesied that they were representatives of the true God and he cast the demon out of the girl. He recalled the uproar that occurred there in the Agora when her masters dragged them to the authorities and they were arrested and beaten and thrown in prison. (16:16-24)
Oh that glorious night – hearts aflame with love for God they loudly sang praises to God in the hearing of all the prisoners and God moved in to release them from their chains. The conversion of the jailer and his family! (16:25-34).
He thinks of these people who are now part of the persecuted church in Philippi and his heart is filled with joy and thankfulness to God!
His thankfulness is coupled with JOY (4)
Their joy (15x in the letter) was in the midst of affliction – (2 Cor. 8:1-2), and Paul's joy was while in prison!. Joy is not based upon happenings (happiness) it is grounded internally.
The first lesson in this for us is this:  Joy is an attitude of the heart, not an emotion or a feeling. And the second lesson is: This joy is found outside yourself! Note that Paul points to the Lord as the source, Rejoice in the LORD (3:1, 4:4)
His thankfulness is expressed in PRAYER (4)
Paul rarely thanks God for stuff/things, he thanks God for people! Paul was a people person. He was not glorying in an achievement, a building or a program but in a people who were called by God's name!
How much of your praying is giving thanks and how much is complaining
The Joy & Thankfulness that Paul is talking about is a direct result of receiving "grace and peace" from God (2).  If you have not partaken of His grace then you do not have peace with God.  If you do not have peace with God you cannot know this thankfulness and joy!
A FELLOWSHIP THAT IS CENTERED IN THE GOSPEL
Thankful for their Fellowship in the Gospel (5,7)
They were partners with Paul in the gospel! Fellowship (koinon) – lasting, committed fellowship. "From the first day until now."
"For your fellowship in the gospel." This is a committed, lasting fellowship! It is the idea of people of very different cultures, Ideas, families, places in the world etc., having an indestructible bond, a oneness and unity that cannot be shaken. In all of our diversity we have one common goal, one common agenda, one common purpose, one common motivator… the Gospel of Grace (7b, (2 Cor 8:2-5)
They were committed to the evangelization of the Gentile world, to sharing the gospel with everyone who would listen.
They were committed to suffering and poverty for the sake of the gospel!
They were committed to giving selflessly to the cause of Jesus Christ!
The Philippians identified with him in his imprisonment for the gospel. This at a time of persecution when others fled from Him (7a).They also identified with him in his defense of the gospel (apologia). Apologetics refers to speech in defense of the gospel. (7b). And they identified with him in a positive confirmation of the truth of the gospel. (7c)
Their fellowship was:
A fellowship of Grace (7)
1John 1:3 that which we have seen and heard we declare to you, that you also may have fellowship with us; and truly our fellowship is with the Father and with His Son Jesus Christ.
A fellowship of the Holy Spirit (2:1)
A fellowship of suffering (3:10)
A fellowship of Sacrifice (4:14-15)
This kind of fellowship is experienced as we serve God together. Last month many of us here at Kitwe Church came together to sing Christmas carols at the Mukuba Mall and to give out gospel tracts and New Testaments.  Remember the joy we had serving God together?  Remember the testimonies that many of you gave about what a blessing this was? We experience fellowship as we give ourselves to the gospel here and around the world!
The world seeks to find a means of experiencing this kind of fellowship – but they fail. This fellowship is for a cause that is greater than any selfish ambition, it is the emptying of self, the giving over of my dreams and aspirations for a common cause – the sake of the gospel. It is an absolute abandonment of brothers who partner together for the sake of His name to carry the glorious gospel to the shores of Morroco, the deserts of Somalia, the swamp villages of Sudan, the remote peoples of western Kenya, the villages of Northern province, the working class people of Kitwe, Zambia.
Confident in God's Faithfulness (6)
Paul has a rock solid confidence in God. He who began it will complete it! What began with the acceptance of the gospel message preached by Paul in Philippi, continued until the present will be completed in the future. ("from the first day until now…").
God will complete in every Christian what He has begun! (Acts 16:24) Nothing will prevent Him from completing His Work. He began a work of Grace at salvation, He will complete His work of Grace until the Day He comes again.
Don't grow discouraged at your failures, Don't forget that God will bring to reality the work of perfecting us, conforming us to the image of Jesus Christ.
I don't have to control, I don't have to worry and fret, I can confidently, joyfully, thankfully commit my ministry and those with whom I serve to Him who will finish what He has started! Ministry is not about YOU, it is not about ME! We are God's chosen vessels to carry the gospel, to faithfully proclaim it, to plead with men to surrender their wills to the Savior. But it is all of GRACE! He calls them, He opens hearts, He saves men and women, boys and girls, and the One who calls and saves them will keep and complete them! OH JOY! What a cause for thanksgiving!
So what should you do now?
Will you commit to the "fellowship of the gospel" by joining in sacrificial service for God through the ministry of this church? Does not the grace of God lead you to such fellowship?
As you commit to God's purposes you will know the thankful joy and love this fellowship brings.
Are you experiencing real joy – based upon your relationship to Jesus Christ and your fellowship in Him? Will you partake of the gospel today? You can be saved from your sin! You can have new life in Jesus Christ!